The Barena Technœnologie® regeration reactivates the main oenological functions of the barrels as an active container, adapting to the desired wine profile.
Make your Barena simulation®
Barena Technœnologie®
Located in Bordeaux in France and in La Rioja in Spain since 2008, more than 400 wineries have placed their trust in our method, and tens of thousands of regenerated barrels testify to our good results in terms of eonological processes. In this way, we constantly collaborate with our clients, offering solutions to their oenologists to improve the quality of their wines according to the desired wine profiles. The Barena Technœnologie® team facilitates and meticulously ensures the logistics, traceability, analytical control and monitoring of barrel batches.
An innovation already integrated into the winemaking process
Barena Technology®'s technological solutions are already integrated into the winemaking processes of the most prestigious wineries in Spain.
Drag the slider horizontally to compare the external state before and after barrel regeneration.
The method
Our system, which is unique in the world, makes it possible to reactivate the main oenological functions of the barrels through an internal regeneration process and external renovation without dismantling the barrels.

The Barena Technœnologie® treatment is a detailed process, barrel by barrel, in which we recover the inner layer of the wood.

With high-purity quartz blasting, we remove the crystallised wine solids in the pores of the wood (0.4 – 0.7 mm) without affecting the original toasting of the barrel.

An intensive steam treatment (with dechlorinated and decalcified water) then makes it possible to achieve disinfection even 1 cm from the inside of the stave, eliminating various moulds, bacteria and yeasts such as Brettanomyces bruxellensis.

The treatment of the barrel is completed by external sanding which considerably rejuvenates its appearance.
Benefits
We reactivate the main oenological functions of the ageing barrels as an active container of wine, and improve the quality of the wine according to the desired profile.
We respect the original wood toasting.
We clean and disinfect the internal wood by removing microbiological residues and risks.
We allow the release of ellagic tannins.
We optimise the productivity of your barrel park, drastically reducing its cost.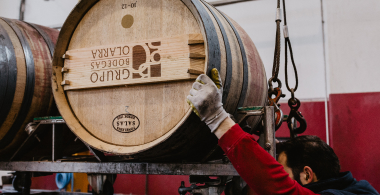 We do not dismantle the barrel.
We reactivate the micro-oxygenation process and some of its aromatic compounds.
We have considerably improved the external appearance of the barrel.